July 03, 2018
Top up your e-learning with MIMS Learning's summer school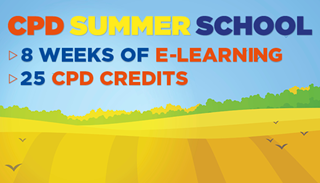 Ease the run-up to your appraisal with MIMS Learning's summer school, learning online and gathering 25 CPD points during the relative quiet of summer.
Summer school is open to all MIMS Learning members – to find out more about membership visit our subscription page.
The aim of summer school is to help you earn 25 CPD credits for e-learning between July 10 and September 10 2018.
If you've signed up to our update bulletins, you'll receive suggestions for modules to complete over the next week, every Tuesday from July 10 to August 28.
You'll enjoy weekly e-learning hand-picked from most popular, most essential and most interesting content over the school holidays.
Alternatively, visit our summer school learning plan page to choose from the full list of recommended summer school modules.
When you have completed summer school, simply email us at support@mimslearning.co.uk and we'll email you a personalised CPD certificate.
Depending on the learning time available to you, you can aim for:
Gold certificate - 25 credits


Silver certificate - 15 credits


Bronze certificate - 10 credits
NB: you don't have to stick rigidly to the summer school list – you can count any MIMS Learning modules completed between July 10 and September 10 towards your total.
Summer school bulletins are being sent out for 8 weeks starting on July 10.
For more information visit our user guide and FAQs page here.