June 29, 2018
Summer school user guide and FAQs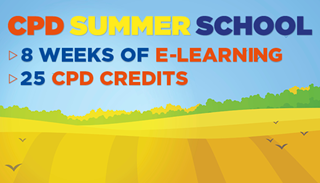 Welcome to MIMS Learning's online summer school!
Summer school is open to all MIMS Learning members - find out more about membership here.
The aim of summer school is to help you gain up to 25 CPD credits over an 8-week period while your practice is relatively quiet - so the run-up to this year's appraisal will be a little easier.
Summer school runs from 10 July 2018 to 10 September 2018 and offers you up to 25 hours of learning on essential topics relevant to primary care. Browse our summer school learning plan page to see the content on offer.
Once you have completed summer school, you can claim a personalised summer school certificate for either 10 credits (Bronze certificate), 15 credits (Silver certificate) or 25 credits (Gold certificate).
How do I join summer school?
You must be a MIMS Learning member to be eligible for a summer school certificate. As a member you should regularly receive our weekly update email, and if you are receiving these, you don't need to do anything else. Simply look out for the summer school update email every Tuesday outlining suggestions for what to learn in the coming week. If you aren't receiving our weekly update, go to `Notifications' within `My Account' and ensure that there is a tick in the box next to `MIMS Learning Update'.
When can I start learning?
You can complete modules every week after you've received your summer school email - but you don't have to wait. Start and continue any time by visiting our summer school learning plan page.
How many CPD credits can I earn from summer school?
Depending on the learning time available to you, you can aim for:
Gold certificate - 25 credits

Silver certificate - 15 credits

Bronze certificate - 10 credits
How do I obtain my personalised certificate?
Certificates will be available from 10 September onwards to any MIMS Learning member who's completed 10, 15 or 25 credits of learning over the previous 8 weeks. Email support@mimslearning.co.uk to request your certificate.
Can I count credits from other MIMS Learning modules towards my total?
Yes. If the summer school learning plan modules don't fit your learning needs, or you have previously completed modules in this plan, you can count other MIMS Learning modules towards your total. Any MIMS Learning module will count, as long as you've completed it between 10 July and 10 September.