September 16, 2015
MIMS Learning magazine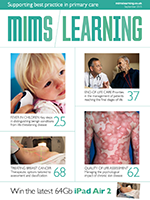 MIMS Learning magazine is a new monthly magazine for GPs and nurses working in NHS GP practices in England.
With content sourced from the mimslearning.co.uk website, each issue brings you clinical updates on conditions you see in your day-to-day work.
Our September launch issue features articles on fever in children, end-of-life care, emergency contraception and hypertension, plus a cancer learning plan.
You can keep abreast of the latest developments in clinical care and prescribing with our update section, and find answers to your questions on women's health in our clinical Q&A interview with Dr Sarah Gray.
Our "hot topics" discussion with Professor Keri Thomas and Dr Trisha Macnair focuses on care of the dying post-Liverpool pathway.
While reading and sharing with colleagues, you'll note that each clinical article carries a CPD value. To gain a MIMS Learning CPD certificate for the article, go to mimslearning.co.uk and complete a post-reading test. Your certificate will then be added to your MIMS Learning CPD organiser.
To request your own copy of MIMS Learning magazine click here