March 09, 2018
Learn from the experts at MIMS Learning Live this year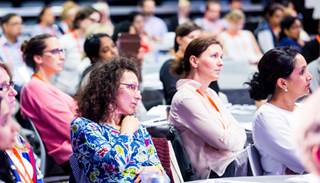 MIMS Learning Live events bring you leading speakers talking passionately about their subject, tailored towards real-life primary care. With plenty of time to discuss cases or specific situations, you'll leave with practical advice that you can take back to your practice. In 2018 in response to our delegate feedback, we're repeating our multi-stream clinical education events around the country, as well as offering two new types of education events.
For the MIMS Learning Live multi-stream and multi-topic events, we bring together experts in a range of clinical specialties. In London, we offer a choice of four clinical streams, all relevant to primary care. At our regional events, we've hand-picked a selection of speakers to give you a full day of CPD learning.
Find out more about MIMS Learning Live - multi-stream and multi-topic events
MIMS Learning Live Respiratory has been developed in response to delegate requests for more education in this area. We carefully select expert speakers to provide you with practical information relevant to primary care issues and provide a full programme of education on respiratory topics including COPD and asthma. Interactive case studies help to support your learning.
Find out more about MIMS Learning Live Respiratory
Every GP fears missing something sinister when patients present with familiar symptoms. Based on the most popular activities on mimslearning.co.uk, our red flags conferences will help healthcare professionals to identify serious differential diagnoses and spell out exactly what to check for in order to safeguard those patients presenting with everyday symptoms.
Find out more about MIMS Learning Red Flags
What delegates said about 2017 MIMS Learning Live events
"A fantastic opportunity to up-skill and be challenged with different ways of thinking and conducting consultations with patients."
"Excellent speakers, relevant to my daily practice and lots of top tips! Very slick organisation. Such a positive experience, from the staff at the front desk, to everyone on the programme – felt like I learned a lot!"
"Really useful to clinical practice – already changed some of the ways I manage my patients."